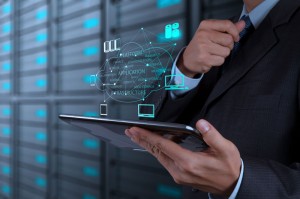 More and more, we hear of security breaches that are derailing business's activities, whether such problems are malicious software ("malware") designed to grab privacy information from an employee, a computer crash or even a natural disaster such as an earthquake. A data breach can put customers' personal information in peril, thereby causing embarrassment and even costing steep fines. This is why it is important to hire a reputable IT managed service provider before you need one. Businesses rely on their IT systems to do day-to-day business, and most of the time, things go as they should. But what about when they don't?
Proactive IT Support is Worry Free
Taking a proactive approach to IT assistance is key. Before you need one, find a reputable IT provider. With your IT provider, draw up a managed service agreement/service level agreement so you know what services they will take care of – remote and local backup, recovering lost and corrupted files, network security updates and even unforeseen computer repairs. Keeping systems up to date will help prevent downtime. Proactive IT support converts the unexpected costs of reactive problem-solving into the more stable, budget-friendly cost of preventive maintenance and support. With fixed-price IT support, there are no surprises that can play havoc with the company's budget and productivity.
Aligning Your IT Service Delivery Costs With Business Value
By fixing IT Service costs with an IT Managed Service agreement,  your service provider has incentive to proactively ensure everything is working smoothly. Instead of billing by the hour related to problems, a fixed-priced arrangement covers most incidents. It is in the best interest of your IT Managed Service Provider to help you proactively prevent IT problems—it keeps their costs (and stress level) down so they can serve you over the long haul.
Remote Support Saves Time and Money
Many problems can be detected and resolved remotely. In addition, services including malware and antivirus protection, O/S patching and other routine services can occur outside of normal business hours to minimize disruption of your employees. This adds up to fewer problems and more productivity for your business.
As the saying goes, an ounce of prevention is worth a pound of cure. Finding a reputable IT managed service provider and drawing up a service-level agreement, along with a proactive approach, can help prevent potentially costly problems before they start.